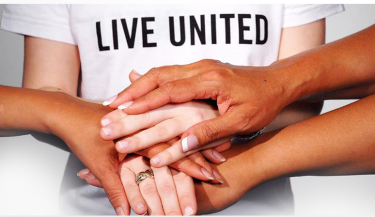 Our Mission
To serve as a trusted community leader by leveraging resources in support of collaborative solutions. 
Our History
In 1887, a Denver priest and a rabbi put their heads together to plan the first united campaign to raise funds to support ten health and welfare agencies. This effort went through many name changes before it became what it is today. The spirit of philanthropic giving began in Pueblo in 1923 when community leaders raised $105,000 by going door-to-door. It was known first as the Community Chest, then the United Fund and now, United Way. While the name changed, the mission remained constant--to raise funds whereby donors could give to a single effort and help support the array of needed and critical services in our community.
Today, the same mission leads United Way of Pueblo County --'to develop donor resources to enhance the quality of life for the people of Pueblo County'. United Way of Pueblo County is autonomous, directing our own course based on community needs and the direction given by our governing board.
Remarkably, over the years UWPC has raised over $50,000,000 in campaign funds alone. In addition to campaign fundraising, United Way also administers the El Pomar Community Problem Solving Fund, created from an endowment gift from the El Pomar Foundation, addressing the needs of the indigent and homeless, and operates the United Way Middle School Mentoring Program, Pueblo Volunteer Income Tax Assistance (VITA) Program, and Bank On Pueblo County. UWPC also administers EFSP funds from the federal government to assist in emergency food and shelter in Pueblo County.
The power of United Way is a result of a community-wide collaboration to help those in need. UWPC relies on hundreds of committed volunteers each year to raise and allocate funds to help solve the most critical issues of our community through various health and human service agencies. Knowledgeable volunteers are also dedicated to ensuring good stewardship of funds, and low overhead. Programming is in three focus areas - youth/family strengthening and senior services, crisis intervention, and basic needs/financial stability (housing and utility assistance, food, tax prep and financial education). Because of the generosity of donors throughout the years, thousands of individuals and families lives have been touched.
Thank you! 
Values Statement
United Way of Pueblo County has always stood for coming together to support one another in their time of need. Now, more than ever, we stand together for equity, strengthening, and healing for all in our community. As such, UWPC, with the support of United Way Worldwide, is working to ensure all partnerships reflect this commitment to actively serving all populations, particularly the commonly disadvantaged and underserved. 
Federal Tax ID #: 84-0404917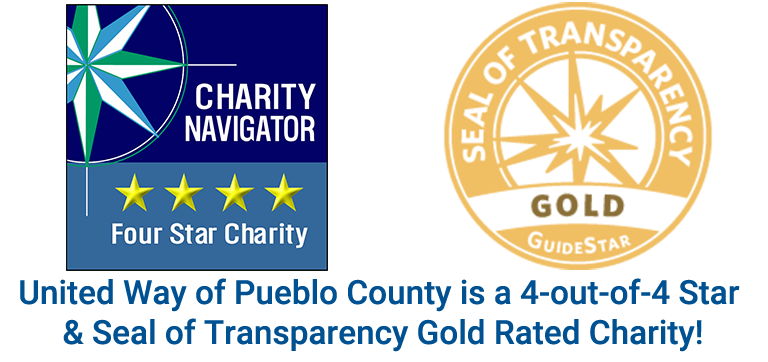 ---